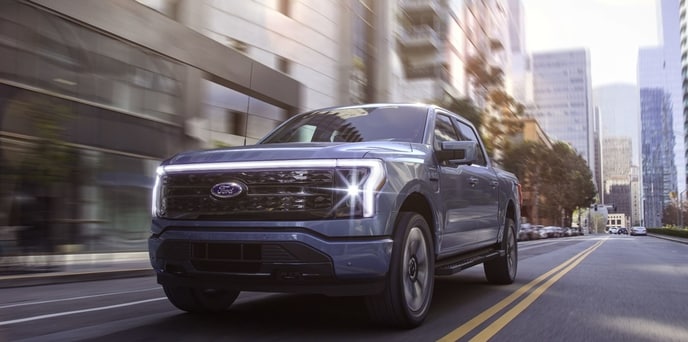 Are you on the market for a new truck? Do you want something contemporary and modern that is also tough and durable?
Imagine a truck that was built for labor and leisure, performance and pleasure, effort and entertainment.
One that met all your needs and possessed the must-have requirements to make your life a more easygoing experience.
You may be asking yourself: Does a truck like that even exist?
And the answer to that question can be found in the F-150 Ford Lightning electric truck.
A new model from Ford that will transform the way you roam the roads. So if you're interested in learning more, keep reading.
Because in this post, you will learn all about The Revolutionary 2022 Ford Lightning pickup.
The Ford Lightning Pickup
One of the most predominant electric pickup trucks is about to make its arrival on the American market. America's most popular truck is making the switch to electric -- and it's known as the Ford Lightning.
The Ford Lightning is the electric counterpart to the F-150 pickup. It's the first of its class, the only Ford series that's completely gas-free and that offers top-of-the-line technological advancements.
An upgraded experience that will change the way you look at driving, the Ford Lightning provides an imaginative and inventive arrangement of intelligent attributes (as well as software upgrades) that will improve its efficiency over time.
Here are some of the benefits that will come with the Ford Lightning:
100% Electric
Electric vehicles are slowly becoming the way of the future, and Ford has taken notice. They have manufactured the most intelligent and secured F-150 that has ever been constructed.
Loaded with all of the benefits that a zero-emissions thrust provides. In the new F-150 Lightning, electric motors and batteries have taken the place of the combustion engine.
This pivot has the potential of shifting the entire car industry toward a more environmentally friendly direction.
It could represent the beginning of the automotive industry adopting EVs as a more popular alternative than their gas-guzzling counterparts.
State of the Art Technology
This model was created with a wide assortment of modern and up-to-the-minute technologies that can assist with bettering the functionality of your truck. Never before has there been such a benefits package.
These EVs will offer BlueCruise technology. For the uninitiated, BlueCruise is a driving system that operates your vehicle hands-free.
America has over 100,000 miles of pre-selected highways known as hands-free Blue Zones where BlueCrusie can be operated.
As time goes on and this tool becomes even more popular, more roads will be sanctioned.
This along with other features such as phone as a key, intelligent range, and onboard scales make the Ford Lightning an advanced piece of automotive equipment that will change your perception of what you thought a truck could be.
Built the Ford Way
Despite all the improvements and enhancements, you will still get exactly what you have come to expect from Ford. Strength and durability.
The Ford EVs are still built Ford tough! And you can bet that the Ford Lightning is no exception.
When it comes to electric pickups, this behemoth on wheels was constructed on the grounds of intense work blended with restorative recreation.
What Will the Cost Be?
In the spring of 2022, the Ford Lightning electric pickup truck will make its arrival. The price will begin with the base model which will be about $42,000 and the mid-range XLT will be around $57,000.
Additionally, Ford is also offering Lariat and Platinum models for the Lightning, but the price range for those has yet to be revealed.
Performance and Power
Every model of the Ford Lightning will come equipped with a set of two electric motors. Additionally, it will also have a four-wheel-drive feature as it is a sports utility vehicle.
When using a Standard Range battery, the motors merge to produce 426 horsepower. However, when upgraded to an Extended Range battery, the rankings of the horsepower increase to 563.
Furthermore, Ford has also set forth a patent for a detachable range extender engine camouflaged as a post-market bed-mounted toolbox.
Additionally, the engine will start to renew and recharge the battery if you ever happen to be out of range of a charging station. Convenience at its finest!
Battery Life and Range
Ford asserts that the smaller batteries will yield a driving range of around 230 miles for a full charge. But by upgrading to the bigger batteries, that number is increased to about 300 miles per charge.
You will be able to recharge the juice of your Ford Lightning at home through a 110-volt and 220-volt outlet.
But in addition to that, it can also charge at public fast-charging stations, and Ford maintains that it will charge from around 15% all the way up to 80% in about 45 minutes' time.
And another creative attribute from Ford is that they masterminded the F-150 Lightning to act as a backup generator!
Ford alleges that a fully charged truck has the capacity to provide up to three days' worth of electricity to your home if there was ever a power outage due to a storm.
Towing Capacity
The official greatest towing volume of the manufacturing model is a hefty 10,000 pounds. However, only trucks that possess the Extended Range battery are able to pull something like this off.
The Standard Range battery version is restricted to a mere 7700-pound load.
However, the Payload for an Extended Range battery falls in the scope of about 1800 pounds, whereas the Standard Range battery has a Payload of around 2000 pounds, respectively.
Technology Features
Outfitted with a 12" touchpanel infotainment system, the standard model is equipped and connected. Loaded with a myriad of features, the technological upgrades will keep you ahead of the curve.
Some of these upgrades will include apps such as Apple CarPlay, in-dash map-reading, as well as a Wi-Fi- hotspot, everything is conveniently located and easy to navigate through.
Additionally, Ford is also looking to add two separate optional deluxe stereo systems, one of which will have eight speakers within the Lariat model and the other with an impressive 18 speakers within the Platinum model.
Safety Qualities and Assistance Features
Even with all of the gadgets and accessories, Ford still takes care to see that the most important aspect of their EVs are taken care of -- you. With the safety of the driver top of mind, Ford has taken the right precautions.
Here are a few of the assistance features Ford has built into the F-150 Lightning to ensure your safety:
Blind Spot Information System (BLIS)
Ever heard the expression "having eyes at the back of your head"? While with BLIS, that turn of phrase is almost true.
The Blind Spot Information System comes equipped with sensors that notify you of any vehicles or pedestrians that you may be unaware of. This will ensure the safety of not only you but others as well.
Lane Keeping Assist
Let's be honest, we all get distracted, our minds tend to wander, and sometimes this can happen at very inconvenient moments -- like when you're behind the wheel.
Lane Keeping Assist will keep you in your lane, especially during those times when you become particularly distracted for whatever reason.
If your Ford Lightning begins to swerve outside of your lane momentarily, you will be warned and notified via vibrations that will shake your steering wheel.
BlueCruise
BlueCruise is a fresh technology that allows you to control your Ford EV without the use of your hands. BlueCruise will make you feel more self-assured and in charge, as you traverse through the highways.
The Interior
The cabin of the Ford Lightning is almost identical to the cabin of the traditional F-150. However, there is one key difference; the touchpanel infotainment system is a full 15.5" for the Lariat and Platinum models.
The Lightning also consists of reclining seats for naps as well as a console that overturns to make a workstation once the gearshift is folded and tucked away.
Furthermore, the cargo bed has similar measurements to ease the transfer for any past truck users. They can effortlessly move their materials from their old truck to the new one.
Are You Ready for the 2022 Ford Lightning?
Many people are very excited about the 2022 Ford Lightning, and for good reason. It's a truck that could potentially change the way the automotive industry manufactures vehicles.
But if you're chomping at the bit for a new vehicle and can't wait until the spring of next year, then be sure to check out our new inventory to find something that suits your needs.