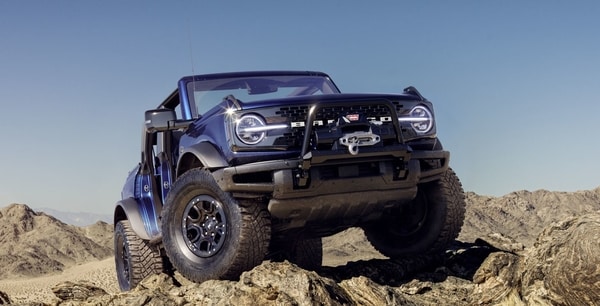 The Ford Bronco is now a classic in the SUV and off-road vehicle world. The original run lasted 30 years but ended in 1996 when Ford decided to make bigger SUVs to keep up with market demand at the time.
Now the Bronco is back! The 2021 model is the first Bronco released in 25 years, and hype levels are through the roof.
There's plenty to love about the new 2021 Ford Bronco, too. If you have your eyes on one but are daunted by the various trims and packages available, we've got you covered.
We've written up a detailed guide to everything about the 2021 Ford Bronco. Read on to find out more!
2021 Ford Bronco: Bringing History Forward
When discussing the new 2021 Ford Bronco, it's important to understand its history to appreciate what it's bringing to the table.
The first generation of Ford Broncos rolled out in 1966, with a proprietary chassis design. The Bronco was intended to be a direct competitor to the Jeep CJ (now known as the Wrangler).
With a short wheelbase and a squared-off, no-frills design, the Bronco became popular with outdoorsy types and is considered a classic beach car.
Broncos even competed in and won outdoor events, such as the Baja 1000. Ford offered a Baja package to further promote the Bronco as an off-road capable SUV.
The Bronco originally was only made in a two-door option. The first generation of Broncos from 1966-1977 saw very little variation in body design, with various options of trim including the beloved "woody" exterior.
The second generation of Broncos that ran only two years, from 1978-1979, drastically changed the size and styling of the Bronco.
This generation and all subsequent generations would find the Bronco seated on the F-series pickup chassis, enlarging the wheelbase while shedding the removable doors and hardtop of the original design.
In 1996, after losing sales to four-door SUVs, the Bronco was discontinued and replaced with models like the Expedition and Escape.
The Bronco Is Back!
The new 2021 Ford Bronco hearkens back to the glory days of the first generation of Broncos. Its design is an obvious call-back to the original, with a squared-off body, removable doors and hardtop, and even the original grille logo.
But there are nearly 60 years of technological innovation packed into the 2021 Ford Bronco that makes it a competitive option in the world of mid-sized SUVs.
The new Bronco is so highly anticipated that the First Edition trim models have already sold out on reservations, twice! So if you're looking to get one, reserve one ASAP. Let's dive into what makes the 2021 Ford Bronco so great.
Suitable Daily Driver?
On-road handling was one of the major issues that the original SUVs, such as the Bronco, faced. The old-school SUVs simply do not drive well in town on paved roads, and as such, are not appealing to people looking for a do-it-all vehicle.
The 2021 Ford Bronco has many modern enhancements that make it an excellent daily driver that can also handle wheeling and mudding along with the most kitted-out Jeeps.
Some of the key safety features include:
· Rear safety cameras
· Automatic collision detection and braking
· Pedestrian detection
· Automatic high-beam headlights
· Active lane control
· Blind-spot monitoring
The 2021 Ford Bronco also has creature comforts — like adaptive cruise control, Apple CarPlay, and Android Auto — as standard features. Depending on the trim selection, there are also various sizes of touch screen infotainment systems.
And much like its other boxy off-road competitor, the new Bronco also handles much better in civilization, with low wind noise and none of the infamous road drift. It will surely be a suitable daily driver.
Off-Road Redefined
The biggest appeal of buying a 2021 Ford Bronco is in its off-road capabilities. Even the base model can perform well in average off-road conditions. But if you want to go rock-hopping, you might want to look into upgrades.
The engine inside of the Bronco comes from the Mustang and Ranger lineage, boasting a 2.3L Eco-boost 270 horsepower four-cylinder with 310 lb-ft of torque on base models.
An upgraded engine is also available on certain trims. This is a 2.7L twin-turbo V6, with 310 horsepower and 410 lb-ft of torque. This is the same engine found in the F series trucks.
Both engine options are available in a 7-speed manual or 10-speed automatic transmission. The manual transmission also includes a "crawler" low gear for wheeling purposes.
While other off-road odds and ends — such as bumpers and mudguards — vary among the different trim levels, the Sasquatch off-road package is available for each one.
This package includes an upgrade to 35" tires on 17" Beadlock wheels, a four-wheel-drive system, a Bilstein shock system, and locking differentials on the front and rear.
The Sasquatch package is a must-have on the 2021 Ford Bronco if you plan on doing any strenuous off-roading activities. Luckily, it's even available on the base model trim package.
Finally, we should mention the G.O.A.T driving modes. G.O.A.T. stands for "Goes Over Any Type Of Terrain."
These are selectable via a dial and are your "easy buttons" for choosing the off-road settings for any terrain.
Eight G.O.A.T modes are available in total across the Bronco line, but only the higher-end models include all of them.
2021 Ford Bronco Trims and Options
Ford offers a variety of trim packages and options. Keeping all the details straight on what combinations are available is tough, so we've put them together here.
Each trim package is available with two or four-door options, as well as the choice between 2.3L V4 and 2.7L V6 engines, and 7-speed manual or 10-speed automatic transmission.
As mentioned before, the Sasquatch package is optionally available on every trim except the Wildtrak, where its offerings come standard.
Base Model
The 2021 Ford Bronco base model comes stock with 30" wheels on 16" steel tires, upgradable via the Sasquatch package.
LED headlights, Terrain Management System with five G.O.A.T modes, and an 8" infotainment system round out the standard stock options available. The 7-speed transmission and 2.3L engine are stock, as well.
Big Bend Model
The Big Bend model is the next step up and adds creature comforts to the base model specs.
The notable off-road spec difference is that the Big Bend model comes stock with 32" tires on 17" aluminum wheels.
Remote start, heated seats, a leather-wrapped steering wheel, a built-in power inverter, and a carbonized grille on the front are also included in this package.
The Big Bend also includes an additional G.O.A.T mode and LED fog lamps to round out the upgrades.
Black Diamond
The Black Diamond is the first Bronco trim level to start dipping into standard off-road capabilities, although it is still not equivalent to the full Sasquatch package.
Black Diamond comes stock with the 32" wheels on 17" aluminum tires, as well as boasting a standard rear-locking differential. It also includes steel front and rear bumpers, rock rails, and skid plates.
For the interior, the Black Diamond boasts Marine-grade vinyl upholstery and a wash-out interior for easy cleanup. It also includes a Molle strap system and auxiliary switches with pre-run accessory wires.
There are also more options for upgrades: The modular heavy-duty front bumper is easy to upgrade with features like brush guards and winches.
Outer Banks
Compared to the Black Diamond, the Outer Banks is basically an upgrade in creature comforts and aesthetics rather than off-roading capabilities
It includes 32" tires on 18" aluminum wheels, a modular paint-matching hardtop, a blindspot alert system with cross-traffic alerts, tube running boards, and "signature lighting" LED headlights.
As additional options, the Outer Banks offers the 2021 Ford Bronco matching painted fender flares, leather trim seats, an upgraded sound system, and a 12" touchscreen infotainment system.
Badlands
The Badlands trim package is a direct upgrade to the Black Diamond in off-road capabilities. It comes very close to the full Sasquatch package, minus the 35" tires on Beadlock wheels. For those, you're still looking at upgrading to the Sasquatch.
Seven G.O.A.T modes, locking front and rear differentials, stabilizer bar disconnect, standard rock rails, underbody bash plates, and upgraded front and rear axles round out the off-road upgrades.
Wildtrak
The Wildtrak trim package includes everything that comes in the Sasquatch package, with a standard 2.7L twin-turbo V6.
It does lose the sway bar disconnect and undercarriage bash plates as package standards, but they are optional upgrades.
Other Options and Upgrades
There are a plethora of other options and upgrades available for all trim levels of the 2021 Ford Bronco. These include things like roof rails, brush guards, paint protection, keyless entry, engine block heaters, and more.
Ford has also announced support for many aftermarket upgrades and features, but we will probably not know all of the details until the 2021 Ford Bronco has been out in the wild for a while.
Which 2021 Ford Bronco Is Right for You?
The Sasquatch package is pretty hard to beat and should be considered as an option for any of the more affordable trim models if you plan on doing any off-roading.
The Badlands and Wildtrak are the most intense-off-road capable vehicles right off the assembly line. If you are more interested in the Bronco for its history and aesthetics or as a family SUV, consider the Outer Banks.
Ultimately, the best way to find out which 2021 Ford Bronco trim package is right for you is to visit us for a test drive or
contact us any time
with questions online or at (731)885-8833.