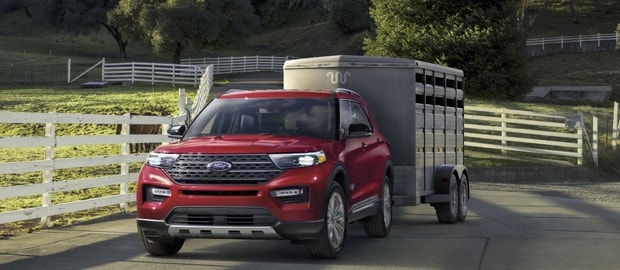 The 2021 Ford Explorer is a family-friendly SUV that is far more powerful than the typical SUV or minivan. With 3 rows of seats, it's definitely big enough to keep the entire family comfortable.
But under the hood, it's far more than a passenger vehicle. It's got a more powerful turbocharged engine and more torque than other cars in its class without sacrificing fuel economy.
If you are looking for a vehicle that can fit six to seven passengers, plus a bunch of gear in the back, while hauling your RV or boat, then buying a Ford Explorer should be on the top of your list.
Wondering what makes the Explorer worth considering, and what's new for 2021? Keep reading our 2021 Ford Explorer review to find out.
What's New In the 2021 Ford Explorer?
Last year, the 2020 Ford Explorer experienced a complete redesign that saw the Explorer switch from front-wheel drive to rear-wheel drive. The interior was completely reconfigured and updated safety features were added.
For 2021, various features have been updated, but otherwise, the function and feel of the Explorer are consistent with last year's design.
The XLT now comes standard with heated seats, with an optional heated steering wheel. Some models now feature an 8-way adjustable front passenger seat.
The XLT also offers a sport-appearance package for upgraded trim, including upgraded aluminum wheels with sleek, carbonized gray paint. Other gray accents are included, such as the mesh grille and more.
There is a cargo organizer option available for the XLT, Limited, and ST models. There is also a King Ranch Trim package with luxurious leather upholstery.
The ST also comes with upgraded brakes. And transmission paddle shifters have been added as a standard feature to the Limited, ST, Hybrid, and Platinum models.
Ford Explorer Cabin
The cabin of the Explorer is spacious, functional, and comfortable. The second row has the option of a three-seat row measuring at 35/30/35 or two bucket seats.
Those sitting in the rear will find it easier than ever. At the press of a button, the entire second-row seat folds up and moves out of the way. Plus, both second and third rows feature more legroom and headroom than many competitors' SUVs.
Storage Space
The spacious trunk features a removable floor panel that adds even more storage space. And if you really need to store a lot of gear, you can fold both the second and the third-row seats down for a completely flat, extended storage area.
Interior Features
The Explorer comes standard with a tri-zone climate control system, allowing each row to adjust temperature and airflow as needed. An air filtration system ensures the air in your vehicle is recycled.
You'll get an integrated key fob with your Explorer. Thanks to Ford's CoPilot 360 system, you'll have the convenience of a rear camera and lens washer.
An overhead console provides dome and map lights for drivers and passengers, along with a sunglasses holder. Each row comes equipped with dome lighting. Drivers will enjoy the manually-powered night and day rearview mirror.
Five 12V outlets are located in the vehicle, allowing your family to stay charged up during long drives. Two are in the first row, two in the second row, and one is in the cargo area.
Powered windows are present throughout the vehicle with one-touch-up-and-down for both driver and passenger windows.
Engine and Performance
The 2021 Explorer comes with a rear-wheel drivetrain with the option of intelligent all-wheel drive. The true power of this SUV is in the 300 horsepower turbocharged 2.3L four-cylinder engine. This engine outperforms most comparable SUVs on the market.
The Platinum models come equipped with a 365 horsepower twin-turbocharged 3.0-liter V-6 engine. The ST has the same engine but with 400 horsepower.
There is also a hybrid model with a 3.3-liter V-6 engine equipped with an electric motor running at 318 horsepower.
A 10-speed automatic transmission is a standard across all models. The 2021 Explorer drives easy, with power that you can control. The sporty ST model is perfect for those looking for a performance and power boost, capable of handling any terrain.
Towing Capacity
When choosing a model that includes a towing package, the Explorer is capable of towing up to 5,600 pounds, which is higher than the average for comparable SUVs. The available class III towing package includes a class III frame-mounted hitch, trailer connectors, and an engine oil cooler.
The Explorer also comes standard with trailer sway control. You can also choose a package that includes hill descent control or the terrain management system.
With the Explorer, you can tow almost any type of popup camper, as they typically max out around 3,700 pounds for the largest models. You could also expect to tow small to medium-sized, hard-side travel trailers, making camping with your Explorer a breeze.
And since the average weight of a boat with a trailer is about 5,000 lbs, the Explorer is your perfect companion for days on the water.
Fuel Economy
The base Explorer has an estimated fuel economy of 27 mpg in the city and 29 mpg on the highway. Due to the range of models, engines, and drivetrains, the mileage varies for each model.
With the XLT and the Limited, you can expect 21 mpg in the city and 28 mpg on the highway. The ST and the Platinum are rated at 18 mpg in the city and 24 mpg on the highway.
And the rear-drive hybrid model also sports 27 mpg in the city and 29 mpg on the highway. These ratings are on par with most other comparable SUVs.
Connectivity Features
Staying connected in your vehicle keeps your family happy. All models come standard with a horizontal, 8-inch infotainment screen which allows for Apple CarPlay as well as Android Auto functionality.
It also contains a phone bin just below, so you don't lose or drop your device on the road. The system can be voice-controlled for hands-free adjustments.
And thanks to FordPass Connect, the vehicle can utilize a wifi hotspot. This allows up to 10 devices to connect in your vehicle, keeping children entertained and everyone connected, wherever the road takes you.
The connection extends up to 50 feet from the vehicle, allowing you to remain on a call while stretching your legs, or even while camping.
Safety Features
The NHTSA gave the 2021 Ford Explorer a 5-star safety rating. The Explorer comes equipped with a myriad of driver-assistance features to keep you safe on the road.
This includes forward-collision warning and automatic emergency braking. It also monitors your blind spots and provides alerts for rear-cross traffic.
It helps to keep you in your lane with warnings. And it alerts you about nearby pedestrians that may be out of your view. You can also upgrade for parking assist functionality.
The rear-view camera makes backing up much safer, especially since it comes with a lens washer, so dirt doesn't block your view. Automatic high-beams top off the list of safety features.
2021 Ford Explorer Price
The 2021 Ford Explorer cost ranges from $32,450 to $54,480 depending on the available models; base, XLT, Limited, ST, and Platinum.
The base Explorer starts at $32,450. This includes all of the standard features above, such as the 300 hp turbocharged 2.3L four-cylinder engine. The base model features seven seats, with three in the second row.
The XLT starts at $34,225. With this model, you'll have a six-passenger capacity, with two bucket seats in the second row. Though you can choose the three-seat as an option with the XLT. The front row also comes with heated seats.
The Limited starts at $45,005. With the Limited, you can keep the standard 2.3L engine, or choose the 3.3L hybrid engine. The second-row bucket seats come heated as well and all seating sports an upgraded leather upholstery.
The ST starts at $52,830. With the ST, you'll enjoy the standard 3.0L EcoBoost engine. You'll also get an intelligent all-wheel drive with a unique sport-tuned independent front and rear suspension.
The third-row can be folded automatically thanks to power control. And you'll also experience the sleek, upgraded ST interior.
The Platinum starts at $54,480. The Platinum Explorer also boasts the 3.0L EcoBoost engine and intelligent all-wheel drive. But you'll also get the luxurious tri-diamond perforated leather upholstery on all seating for an elegant touch. This model also comes standard with park assist technology.
Who Is the 2021 Ford Explorer For?
With six to seven seats available in the Explorer, these vehicles are perfect for families. Plus, with great gas mileage, the Explorer is perfect for getting kids to school or around town.
And with a powerful engine and high towing capacity, this is the perfect vehicle for long-distance vacations or weekend-warrior outings. Easily bring the boat, RV, or toy hauler wherever you need to go.
Don't have kids? If you need frequently drive 5 or more people around, or if you just need the extra cargo space, thanks to two rows of flat-folding seats, the Explorer is still a great option.
Drive Your New Explorer Home Today
Ready to upgrade your vehicle to something with more space and more power, without sacrificing fuel efficiency? It's time to head to your nearby Ford dealership and take the 2021 Ford Explorer out for a test drive yourself.
At Taylor Ford Lincoln in Union, Tennessee, we have many different models currently in stock. Browse our current inventory or stop by our showroom today.